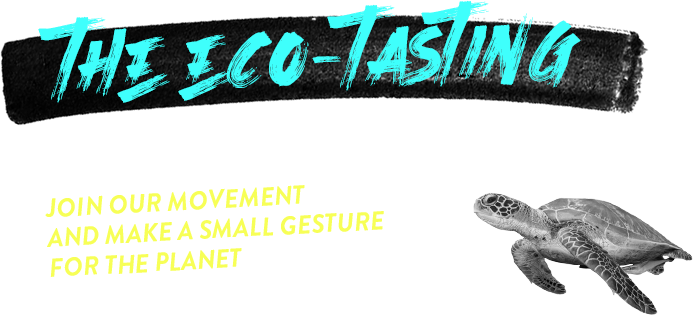 SORBOS is more than just a brand: it's a lifestyle, a way of understanding life and caring for the environment.
We call it ECO-TASTING. Everyday environmentalism with small gestures linked to good times: lunch with friends, family outings, having guests round… An attitude of enjoyment and curiosity about life.
ECO-TASTING is about making a commitment to the planet with small gestures that have a strong impact on the environment, society and our own lives.
Our commitment is based on three of the UN's Sustainable Development Goals (SDGs) for 2030: protection of the oceans, quality education and responsible consumption. And we have joined this great common project to change the world.
Everyone's invited to get involved in the movement. Because we each contribute our own gesture to support ecology and sustainability. Each of us is necessary. To put it another way, each of us is essential!
At SORBOS, we firmly believe in what we do. For us, there is no greater catalyst than the power of conviction. How do we do it? The answer is simple: "with conviction. Always". Because when you believe, you create!
We do not make products, we create experiences. Experiences through the awareness that we are protecting the ecosystem and we aren't generating plastic waste, which makes us feel great, and our awareness by means of small gestures to support the planet. We create products with the goal to replace others that are absurd, like disposable plastics. Experience/awareness are the two sides of a responsible life filled with moments of pleasure. We call it ECO-TASTING.
We create experiences, and we contribute to creating them. Numerous establishments are already sharing with their customers the surprise, fun and satisfaction in helping the environment that can only be had with a delicious, edible, flavoured SORBOS straw.
OUR SUSTAINABLE
DEVELOPMENT GOALS (SDGs)

"Ensure inclusive and equitable quality education and promote lifelong learning opportunities for all"ODS 4
Through presentations and debates at schools and universities, we work with young people on positive values such as environmental awareness or conscious purchasing habits and sustainable consumption.
"Ensuring consumption patterns and sustainable production"ODS 12
SORBOS is the ideal alternative for the conscious, critical and ethical consumer, because we do not use any form of plastic in any part of the manufacturing process of our straws.
"Conserve and sustainably use the oceans, seas and marine resources for sustainable development"ODS 14
For every SORBOS straw consumed by our customers, we eliminate a possible straw at the bottom of the ocean. We do not aspire to change the world, but we want to do our bit.


More and more people are saying yes to a more responsible and committed style of consumption.

We're always making media headlines. After all, our products and sustainable and eco-responsible business philosophy don't go unnoticed.
When a new year begins we want to fulfill a series of resolutions that we often fail to achieve. What if this year you set sustainability…
At SORBOS, we have completely reinvented the nature of cocktails, elevating them to far more than a mere beverage.
Yes, today's post is all about recipes. And we have here 7 original ideas to surprise your guests.